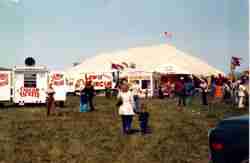 The Lewis Bros Circus Midway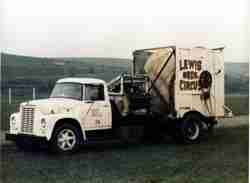 Spool Truck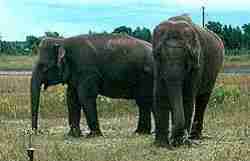 Circus Elephants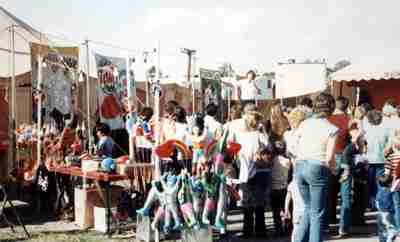 Lewis Bros Sideshow

From Circus Owner John Lewis: "Lewis Bros was a small show, using a 90 ft round top, with 3 40ft middles, and a 30ft x 60ft side show tent, a snake pit show, concessions, and novelty stand.
The show traveled on 7 semis and 3 straight job trucks, plus 15-20 travel trailers and rucks, 24 hour man truck, bill poster truck.
The show could seat approximately 2,500 people. Seating was 9 high bleachers with no reserve seats. The show opened in March and closed in October."
The Lewis Brothers Circus was a medium sized circus that traveled the eastern United States in the 1970s and again in the 1980s. The circus was owned by John Lewis, former manager with the Hoxie Bros. Circus.
The Following is from Lewis Bros. Circus Owner John Lewis:
"I started the Lewis Show back in 1972. I bought Babe or Punk the elephant from the Maddens in Gainsville, Texas, and moved her and some other equipment to the Valley with Boddy Gibbs. Clark and Walters was wintering in a town about five miles away. Jim Silverlake and I decided to put the show out together in Medora. We were going to be partners in the Lewis Bros. Show. We moved all of my equipment, Tent, Seats, Trucks and Animals to Medora. After we got there, we both had different ideas of how to run the show, so I agreed to lease the show to Silverlake, and I returned to the Hoxie Show where I was Assistant Manager to John Hall.
In 1973, Hoxie (Tucker) and I decided to go into partners on a new Show which we were going to call Lewis Bros. and advised Jimmy that he would need to change the name of his show. He changed the name to Barnes and Daily. We put out a Lewis Bros Circus of which we were partners. I later took back the show I had leased to Silverlake and sold it to John Strong and Parley Baer in New Market, Alabama. I later put another Lewis Bros. out which was 100 percent mine, and the show Hoxie and I were partners in, was changed to Great American, which was sold to Allen Hill. I ran the Lewis Bros Circus for s short time and hired Don Prevost to run the show for me, and went back to Hoxie as the General Manager of the Hoxie Bros. Circus, until it closed as was also sold to Allen Hill.
Fisher Bros. or Clark and Walters was never a part of the Lewis Bros. Circus."
Photo Credits: John Lewis
Click Here to read more about Circus Owner John Lewis.
| | | |
| --- | --- | --- |
| | | |
| Previous | | Next |


Circus Office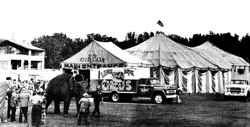 Lewis Bros Circusmidway
and elephant ride.